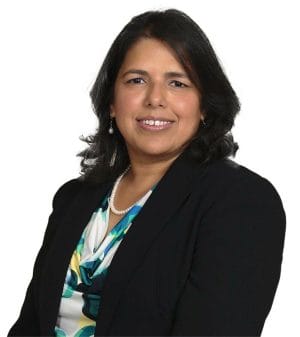 Dr. Monica Mallampalli is a scientific thought leader and women's health advocate. She is a trained biomedical scientist with science policy experience and brings a unique perspective to women's health from bench to bedside. Her interests lie in examining knowledge gaps in science and determining how these gaps contribute to inequities and disparities in care for women.
Dr. Monica Mallampalli has training and research experience in multiple scientific disciplines including biochemistry, genetics, cellular & molecular biology, and neuroscience. Her ability to understand and comprehend complex scientific issues combined with strong analytic and problem-solving skills allow her to offer creative strategies and solutions to advance the science of women's health.
Dr. Mallampalli's portfolio within women's health spans sex differences in chronic diseases, clinical trials, drug development, biosimilars and health innovations. She has co-authored several scientific publications and advocacy reports on topics related to women's health. She has also convened several expert panel roundtables and summits to bring focus on knowledge gaps in women's health.
Over the years, Dr. Mallampalli has built strong alliances with several stakeholders including patients, advocacy groups, researchers, clinicians, federal agencies, policymakers and biopharmaceutical companies.
Previously, Dr. Mallampalli served as the Vice President of Scientific Affairs at the Society for Women's Health Research (SWHR) where she was the chief architect of key programs related to sex-based biology with a focus on women's health.  Prior to SWHR, Dr. Mallampalli worked as a Health Policy Analyst and as a Research Fellow at the National Institutes of Health. She was also a Post-doctoral Fellow at the Johns Hopkins School of Medicine in the Department of Cell Biology. She earned her Ph.D. at the University of Utah in Human Genetics and received a Master of Sciences with a concentration in Biochemistry from Osmania University, India.
Dr. Mallampalli is the founder and CEO of Institute for Women's Health Strategies. The institute aims to apply data driven strategies and solutions to advance the science of women's health but also improve women's overall health and wellbeing.
She currently lives in Ellicott City, Maryland, with her husband and two daughters.
Sex differences and chronic conditions:
Mallampalli MP, Rizk HB, Kheradmand A, Beh S, Abouzari M, Bassett A, Ceriani CE, Crowson M, Djalilian H, Ginoza L, Goebel JA, Kuhn JJ, Luebke AE, Mandalà M, Nowaczewska M, Spare N, Teggi R, Versino M, Yuan H, Zaleski-King A, Teixido M, Godley F. Care Gaps and Recommendations in Vestibular Migraine: An ExpertPanel Summit. Front Neurol. 2022 Jan 3;12:812678. PMID: 35046886
Nebel RA, Aggarwal NT, Barnes LL, Gallagher A, Goldstein JM, Kantarci K, Mallampalli MP, Mormino EC, Scott L, Yu WH, Maki PM, Mielke MM. Understanding the impact of sex and gender in Alzheimer' disease: A call to action. Alzheimer's Dement. 2018 Sep;14(9):1171-1183. PMID: 29907423
Ohayon M, Wickwire EM, Hirshkowitz M, Albert SM, Avidan A, Daly FJ, Dauvilliers Y, Ferri R, Fung C, Gozal D, Hazen N, Krystal A, Lichstein K, Mallampalli M, Plazzi G, Rawding R, Scheer FA, Somers V, Vitiello MV. National Sleep Foundation's sleep quality recommendations: first report. Sleep Health. 2017 Feb;3(1):6-19.PMID: 28346153
Mallampalli MP and Carter CL. Exploring sex and gender differences in sleep. J Womens Health (Larchmt). 2014 Jul; 23(7):553-62. PMID: 24956068
Mallampalli MP, Davies E, Wood D, Robertson H, Polato F, Carter CL. Role of environment and sex differences in the development of autoimmune diseases: a roundtable meeting report. J Womens Health (Larchmt). 2013 Jul;22(7):578-86. PMID: 23829184
Carter CL, Resnick EM, Mallampalli M, Kalbarczyk A. Sex and gender differences in Alzheimer's disease: recommendations for future research. J Womens Health (Larchmt). 2012 Oct;21(10):1018-23.
Miller VM, Kaplan JR, Schork NJ, Ouyang P, Berga SL, Wenger NK, Shaw LJ, Webb RC, Mallampalli M, Steiner M, Taylor DA, Merz CN, Reckelhoff JF. Strategies and methods to study sex differences in cardiovascular structure and function: a guide for basic scientists. Biol Sex Differ. 2011 Dec 12;2:14. PMID: 22152231